Classic Luxury
Norbu Serwo Hotel
Located close to the Labrang Monastery and Gongtang Pagoda, the Norbu Serwo Hotel offers atmospheric and characterful Tibetan-style accommodation in the monastic town of Xiahe.
Xiahe, China
Characterful hotel designed in traditional Tibetan-style

Recently opened in 2015 offering modern and comfortable accommodation

Within walking distance of Xiahe's main attractions including the Labrang Temple and Gongtang Pagoda
---
Opened in 2015, the Norbu Serwo enjoys a prime location close to both the Labrang Monastery and Gongtang Tower and will suit those looking for a character property from which to explore Xiahe. With Tibetan-style architecture, a palette of reds and golds, the hotel is built around an attractive central courtyard and comprises 50 modern and comfortable guestrooms, ranging from large rooms with screened seating areas, to triple rooms and dormitory accommodation.
Standard amenities include Wi-Fi, flat-screen TV with cable channels and en-suite bathroom with shower. For greater comfort and space opt for a larger room with a dividing screen between the bed and seating area containing a revolving TV for watching from either the bed or sofa. The restaurant serves Chinese cuisine and there is also a bar, café and traditional tea house for refreshments. The games room includes chess, Mahjong and poker tables. In a great location with modern and comfortable accommodation, this characterful property makes a good base for exploring the monasteries and attractions of Xiahe.
When to visit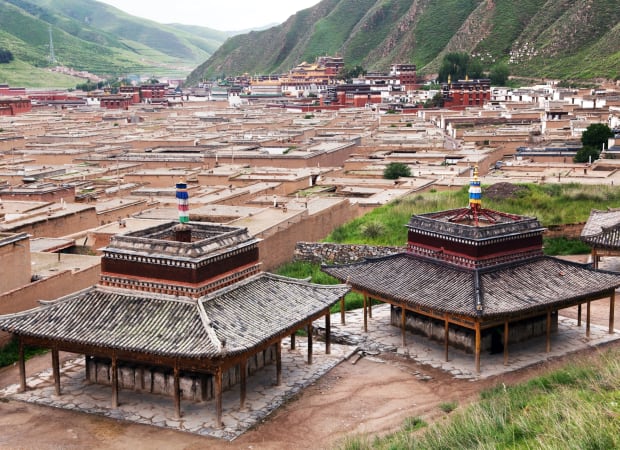 ---
Location
The property is located around 2-kilometers from the town center, the Labrang Monastery and the Gongtang Pagoda.
---
Linxia: China's Little Mecca

Between Xiahe and Lanzhou, we will make a stop at the Xiguan Mosque and walk at a local market at this autonomous prefecture.

Read more

Meet a Nomad Family & Horseback Riding

Enjoy a traditional local lunch with a nomad family on a camp, hop on a back of a horse as you tread the grassland and gain insights into the nomadic lives with an evening Tibetan Culture Q&A Session.

Read more

Temples of Xiahe

This morning, proceed to Labrang Monastery and meet the local monks. Visit the Gong Tang Pagoda as well as local nunnery and learn about the nuns' daily lives.

Read more