Luxury Jordan Holidays 2024/2025
For a small nation, Jordan packs a huge punch in terms of a travel experience. The country offers a wonderfully diverse range of experiences and terrains and is home to four UNESCO World Heritage Sites, including the Rose-Red City of Petra, and the awe-inspiring desert landscape of Wadi Rum. Beyond these 'big names', there is plenty more to explore, and amazing adventures await any traveller on a
The relatively compact size of Jordan means it is easy to get around, with the key areas only a maximum of a few hours' drive apart from one another. It is a great destination for both couples and families, with the historical sites and epic landscapes offering enough adventure and 'wow factor' to keep even young travellers engaged.
The Jordanian people are also warm and welcoming, with the traditional Bedouin culture of hospitality still very much in practice today. The gem of Jordan is of course Petra, and it is certainly worth all of the hype. The majesty and scale of the site makes this truly a once in a lifetime experience, and once you wind your way through the narrow canyon of the Siq (feel free to imagine yourselves as Indiana Jones) and arrive at the Treasury, you will fully understand why Jordan features on nearly every travel bucket list.
Beyond Petra, Jordan has plenty more to offer. The extraordinary scenery in Wadi Rum is almost other-worldly, and it is easy to see why it has been used in so many Hollywood movies to portray other planets. Whilst the capital, Amman, is a fairly modern city, there are pockets of fascinating history, and the Roman ruins of Jerash to the north of Amman are arguably some of the most impressive in the world. The Dead Sea is another alien-esque feature in Jordan. The sea contains water nearly 10 times more salty than the ocean, which is what allows visitors to float practically on the surface. To the south, Jordan occupies a small area on the shores of the Red Sea, which boasts excellent coral reefs. For those wanting to head off the beaten track, the Dana Nature Reserve offers fantastic trekking, and if you are lucky enough you may spot some of the country's rare wildlife here.
Top Tours in Jordan
We've travelled the length and breadth of Jordan and tested every possible route to enable us to curate itineraries that work absolutely seamlessly, taking in the country's many highlights at just the right pace. Packed with unique experiences and handpicked hotels, our trips deliver unforgettable travel moments.
view all tours
Top Hotels in Jordan
Our specialists have travelled every inch of Jordan and stayed in countless hotels so that we can recommend only the very best ones to match your preferences. Whether you want to stay at the hottest property in the area or are looking for somewhere with rustic charm, our handpicked selection of hotels has every angle covered.
Explore Our Expert Travel Guides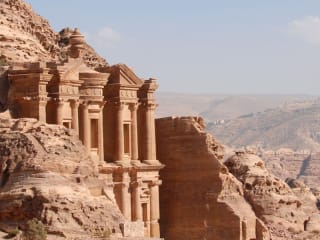 Our guide to Jordan
In Jordan, history and spectacular scenery take centre stage. Eons of civilisation laid claim to the country's arid deserts, fragile ecosystems and ancient cities long before the country was even etched onto a map. Since then, waves of invasion have woven the rich heritage of Jordan, all leaving their perennial mark on its cuisine, traditions and architecture.
Explore
You are on our UK website
We noticed that you are in US and recommend that you explore our US website instead.