Ocean cruises
Set sail for shimmering new horizons on a modern breed of ship that's setting the bar in luxury travel. From the Caribbean to the Mediterranean, cruising just got personal with six-star facilities, spacious suites, butler service and gourmet dining. They even have mega toys like zodiac boats and two-man subs. Your key to the world, ocean cruising hasn't just recaptured the spirit of its glamorous heyday, it's elevated it to art form.
Ocean cruises for adventurous spirits: Far from deck, you can kayak in remote crystal clear coves, come ashore in places inaccessible by most boats to explore tiny islands or take guided hikes through nature reserves, dive pristine reefs…the list is endless.
Ocean cruises for culture vultures: Arrive by morning in some of the most iconic places in the world where you can visit art galleries and museums, take cooking classes with local chefs or meet vintners at the finest wineries. By night, bag the best seats at the opera, join the masquerade at a masked ball, or hobnob with the glitterati at private events. And when you've partied to your heart's content the night-long shore to ship shuttle will deliver you safely back on board.
Ocean cruises for foodies: Gastronomic delights are a serious affair onboard these days with famous chefs, private tasting dinners that complement rare wines, and in-suite Champagne-stocked fridges. Some ships even have a live herb garden to ensure fresh flavours wherever you dock.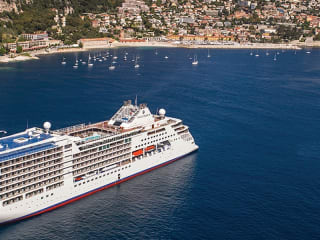 Silversea Cruises
Intimate and personalised, Silversea Cruises offers the creature comforts of an ultra-luxury cruise while the boat size is kept small enough to ply the narrow waterways or bring you to smaller ports where the others can't go. All suites are tastefully designed with an Italian flair, offering magnificent ocean views through a large picture window or private veranda. Enjoy first class dining, full butler service, free flow of premium wines and sophisticated entertainment on an all-inclusive cruise that takes you to all seven continents of the world.
Explore
You are on our UK website
We noticed that you are in US and recommend that you explore our US website instead.