---
Rooms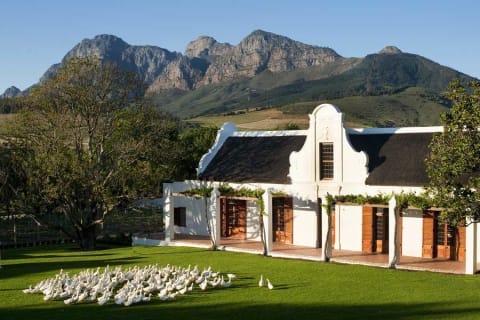 Manor House
This exclusive use Cape Dutch Manor House has five bedrooms and can accommodate up to 10 guests. All rooms have a comfortable king-sized bed, with two having the option to be converted into twins. Breakfast is included daily as well as a well-stocked bar fridge, and there is access to the farms gardens, farms shops and restaurants. Other facilities include a traditional farm kitchen with wood burning stove, a large fireplace and finally a private lawn with a selection of games.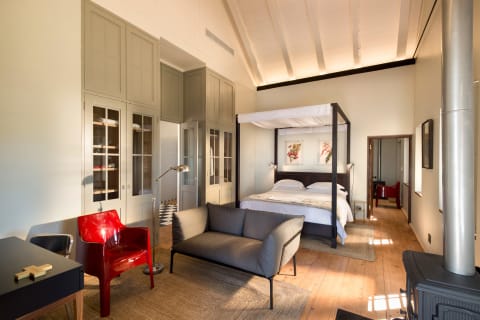 Farmhouse Suite
Each of the one-bedroom Farmhouse Suites offers access to a swimming pool and rejuvenating spa area. All have a comfortable four-poster king size bed, a cast-iron stove and a spacious en-suite bathroom.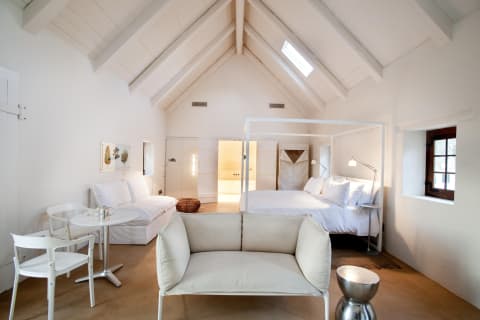 Garden One-bedroom Suite
Each open-plan suite has a luxurious en-suite bathroom and lounge area with thick walls, elegant gables and a hearty fireplace. The interiors take on an altogether contemporary feel when paired with the modern lines of furniture by international design brands such as Kartell, Magis, Philippe Starck and the Bourellec Bros. Bookshelves are filled with a wonderful selection of books and free Wi-Fi are just a few of the things that await you. A well-stocked personalised bar fridge as well as breakfast are included in the room rate.