---
Rooms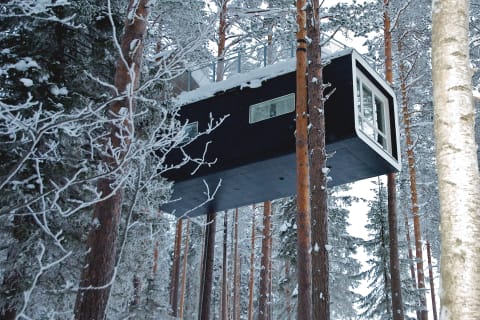 The Cabin
This treeroom's location was based on the idea of creating a platform high up on a sharp hillside overlooking the Lule River valley. You can reach the hut from here via a horizontal bridge among the trees. At the front of the bridge is a large wooden deck. Please note the stairs here are very steep and may not suit those with mobility issues.
The bridge is a long and interesting structure among the trees. The Cabin hangs slightly off-set, under the deck, partly to visually reduce the size and partly to give the tree room its own custom look.
The Cabin is like a capsule, a foreign body in the trees. The room is 24m² and accommodates two people, with a double bed, bathroom and terrace.
Britta's Pensionat is open for Treehotel's guests, serving breakfast, lunch and dinner in an authentic 1930-1950's setting. There's a restaurant, bar, sauna and relaxation area, TV, and internet. When you arrive at Treehotel, you first check at Britta's pensionat; then it's a short stroll through the breathtaking nature to your treeroom.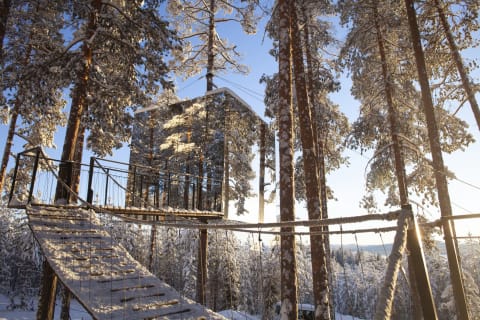 The Mirrorcube
The Mirrorcube is an exciting hide-out among the trees, camouflaged by mirrored walls that reflect their surroundings. The dimensions are 4x4x4 metres. The base consists of an aluminium frame around the tree trunk and the walls are covered with reflective glass.
To prevent birds from flying into the mirrored walls, they have been clad with infrared film. The colour is invisible to humans, but visible to the birds.
The interior is made from plywood with a birch surface. The six windows provide a stunning panoramic view. The Mirrorcube offers excellent accommodation for two people with a double bed, bathroom and lounge. A 12-meter-long bridge leads up to the treeroom.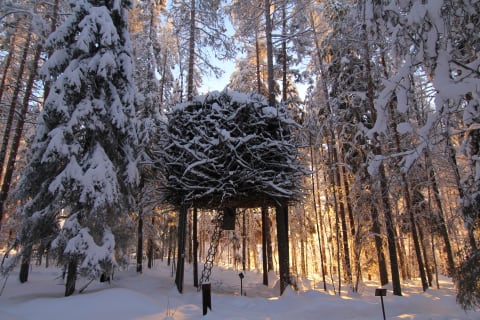 Bird's nest
The Bird's nest is built on the contrasts between the outside and inside. The treeroom's exterior is nothing but a gigantic bird's nest. It gives a camouflage so you quickly disappear and become part of the surroundings.
The interior, on the other hand, is familiar and exclusive. It's a spacious environment where a family with two children can comfortably spread out. The walls are clad with wood panels and the windows almost disappear in the exterior's network of branches. The room is 17m² and has separate bedrooms, bathroom, and living area. You enter the Bird's Nest with the help of a retractable staircase. Please be aware that heavy suitcases can not be taken into the room here so you may have to pick out items to go into a smaller bag for your overnight stay.