Boutique Luxury
360 Leti
360º Leti is an exceedingly innovative and ambitious project, offering truly luxurious cottages against the backdrop of stunning Himalayan peaks and vast valleys. It is quite simply the ultimate Himalayan Hideaway.
Leti, India
360 Leti Offers the ultimate mix of luxury off the beaten track

It is located 5 hours north of Almora so its remoteness and exclusivity make for a fantastic experience

Only four cottages all with outstanding views and adorable sit outs complete with a fireplace

One of the best mountain retreats in the world
---
Being about a 4-hour drive north of Almora in Uttaranchal, and an overnight train journey from Delhi, 360º Leti is very remote yet this is its seductive power. It is however accessible by private plane charter to nearby Pithoragarh if you want to bypass the foothills and head straight for the high Himalaya and the wonders of Leti.
With only four cottages perched on a ridge and surrounded on all sides by stunning scenery, Leti will fascinate and bewilder. It is about an hour's walk from the nearest road and sherpas will run ahead with your bags as you wander slowly to the camp. The cottages are fronted on two sides by glass so that from your comfortable four-poster bed you can witness the rising sun against a Himalayan backdrop. Each cottage has been built with local craftsmanship in mind, using local techniques and dry stone walls. They come with an adjoining fully fitted en-suite bathroom (with solar powered hot water). The cottages have private sit outs with a space for a small bonfire for the colder nights.
There is a quaint dining room, again glass fronted, with an adjoining sitting room with a cosy fireplace for the late evening Himalayan tales. The resident chef has an array of dishes that he can concoct and it goes without saying that there is a superb selection of drinks available. The staff are friendly and always there to assist.
There is a multitude to do and see around Leti from day walks to local villages or simply relaxing in front of the view. With only four cottages, Leti can also be taken exclusively.
When to visit
Top tip:
We recommend combining 360 Leti with the Shakti Village Walks around Almora.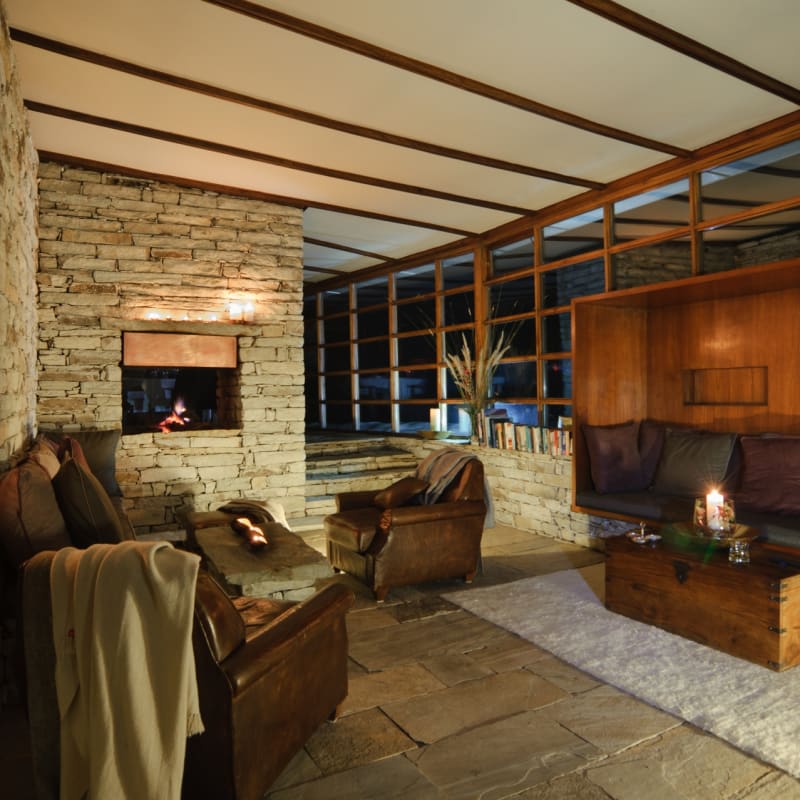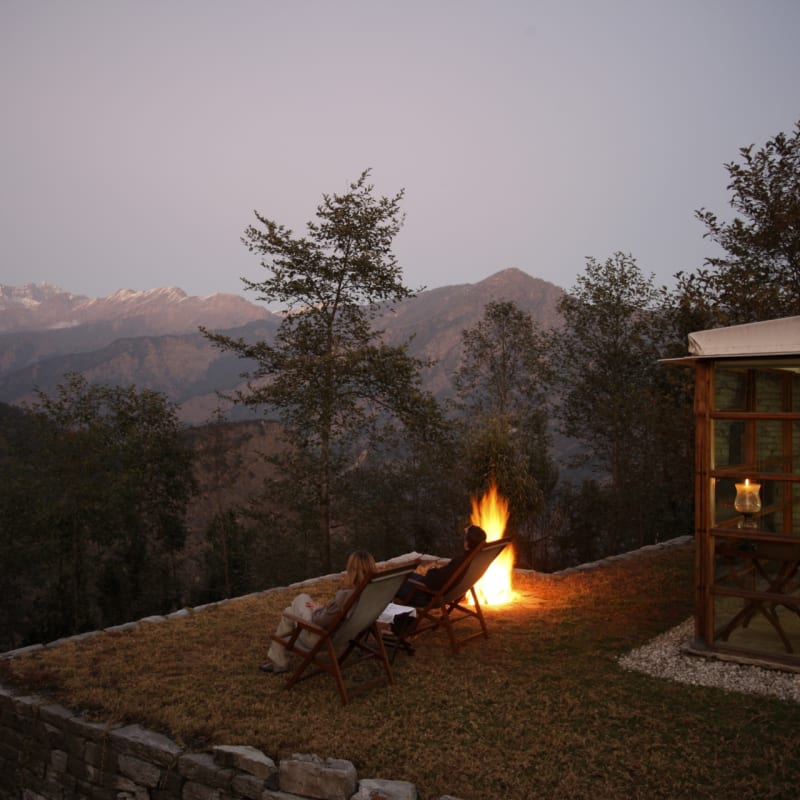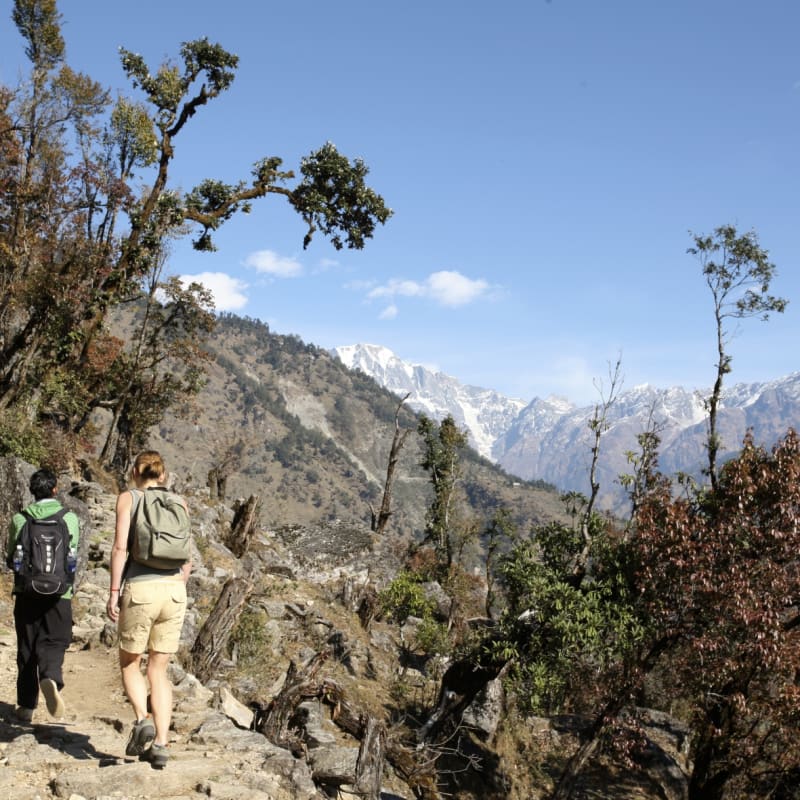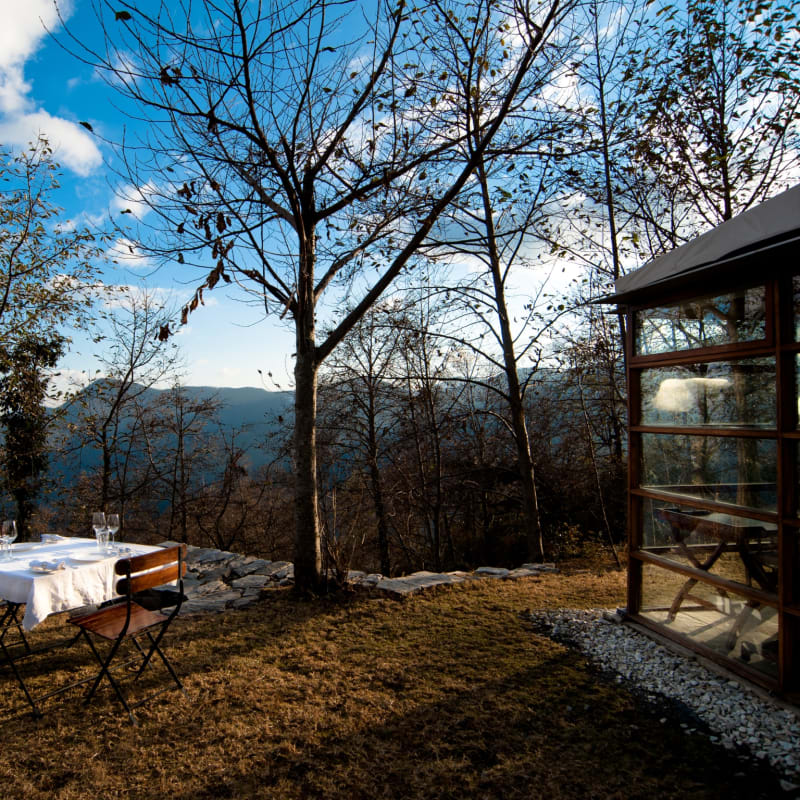 ---
Location
360° Leti is situated in northwestern India in the state of Uttaranchal.
To get here, you need to fly to Delhi (9-hours), then travel to the hill station of Almora by private plane, or train (overnight) and car, or car. An overnight stay at Almora is included in the rates. The next day you'll have a 5-hour drive, followed by a 1-hour walk. Alternatively you can helicopter directly from Delhi to the camp.
You are on our UK website
We noticed that you are in US and recommend that you explore our US website instead.