Limitless Israel
Jerusalem, Sea of Galilee, Tel Aviv, Negev Desert
At a glance
Be inspired by fascinating monuments and ancient artifacts, spanning thousands of years and countless civilizations from biblical times to present day

Swim through the alkaline Dead Sea and enjoy a gourmet lunch on the secluded shore

Indulge your senses as you dine on flavorful Israeli cuisine, from traditional street food to the country's finest gourmet restaurants

Embrace the vast, remote wilderness of the ethereal Negev desert with an exhilarating jeep safari
Journey highlights
Be inspired by fascinating monuments and ancient artifacts, spanning thousands of years and countless civilizations from biblical times to present day

Swim through the alkaline Dead Sea and enjoy a gourmet lunch on the secluded shore

Indulge your senses as you dine on flavorful Israeli cuisine, from traditional street food to the country's finest gourmet restaurants

Embrace the vast, remote wilderness of the ethereal Negev desert with an exhilarating jeep safari
Our tailor made journeys include:
---
When to visit
The best time to visit climate-wise is in spring (March to May) and autumn (September to November), when the daytime temperatures aren't too extreme. Winter can be cold and rainy in some areas.
Itinerary
Tel Aviv
Arriving in the coastal metropolis of Tel Aviv, settle in for two nights at The Jaffa, a sophisticated retreat in the historic port of Jaffa that blends 19th-century grandeur with contemporary luxury. The next day, discover the contrasting wonders of ancient Jaffa and modern Tel Aviv with a private guided tour and be awed by landmarks dating from ancient Egyptian, Roman, and Ottoman eras.

Continuing into central Tel Aviv, admire the varied architectural styles of the city's most iconic buildings including the striking UNESCO-listed Bauhaus style that encompass the White City. For lunch, head to the graffiti-decorated neighborhood of Florentine to check out a traditional hummus hangout, followed by ice cream from one of city's most beloved ice cream parlours.
Accommodation: The Jaffa, Tel Aviv ( 2 nights )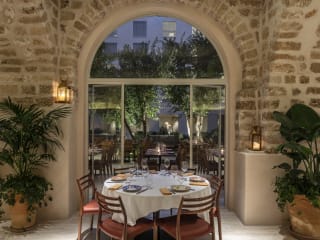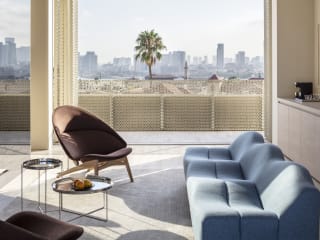 Tiberias & Sea of Galilee
Journey north to Galilee, stopping along the way to explore magnificent ancient cities in the company of your expert private guide. Uncover the treasures of Caesarea, built by King Herod the Great as an imposing port town during the rule of the Roman Empire. It later became a thriving Byzantine town and then a Crusader conquest, with each civilization leaving its own unique archaeological mark on the city. Afterwards, be transported back in time as you unearth the stunning Crusader remains of the UNESCO-listed Old City of Acre, from the halls of the Knights Hospitallers to the thriving Arab market. Continue onwards to wander along the worn cobbled streets of Tsfat, known as the ancient mystical center of kabbalah, brimming with art galleries, boutiques and charming cafes.
Arriving in the lush mountains of northern Israel, plunge into the haven of tranquillity that is the acclaimed Mitzpe Hayamim spa hotel, your home for the next two nights. Oozing privacy and serenity, this luxurious retreat is nestled in the enchanting mountains of Northern Israel. Embrace an abundance of awe-inspiring natural beauty as you explore one of Israel's most picturesque regions. Discover the ancient biblical remains of Tel Dan and get off the beaten track with an exhilarating drive through a working agricultural kibbutz. For a slower pace, experience a private tasting at one of Israel's leading wineries, where vines have been cultivated since ancient times.
Accommodation: Mitzpe Hayamim ( 2 nights )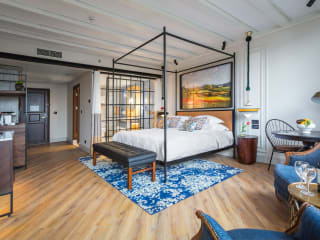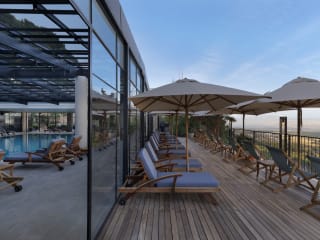 Jerusalem
Your journey continues south to Jerusalem, with a chance to explore several important historic sites around the Sea of Galilee along the way. Climb up to the Mount of the Beatitudes, where tradition holds that Jesus delivered the famous Sermon on the Mount, and marvel at the remains of ornate ancient synagogues that have been excavated in the village of Capernaum. Wander around the impressive archaeological site of Beit Sh'ean, where the remains of 6,000 years of ancient civilizations have been uncovered.

Arriving in Jerusalem, settle in for the next three nights at the luxurious Mamilla Hotel, boasting contemporary interiors courtesy of renowned Italian designer Pierro Lissoni. The Holy City's colorful past will be brought to life with a unique opportunity to meet one of Israel's leading experts on Christian history and pilgrimage. A place of sanctity to Jews, Christians, and Muslims, delve into the history of the city as you encounter endless treasures of the past such as the Church of the Holy Sepulchre, the Western Wall, and the Dome of the Rock.

Experience a weighty but meaningful guided visit to Yad Vashem – Israel's official monument to the victims of the Holocaust, internationally acclaimed as a powerful and reverential memorial. A journey to Jerusalem is not complete without a visit to the Museum of Israel, home to the magnificent Dead Sea Scrolls – the oldest known copy of the Bible. A rich tapestry of cultures collide to establish Jerusalem as Israel's leading culinary destination. Embrace the scents and tastes of Mahane Yehuda market, sampling a plethora of regional delights accompanied by an expert culinary guide.
Accommodation: Mamilla Hotel ( 3 nights )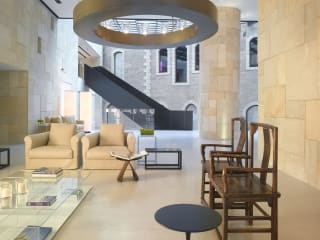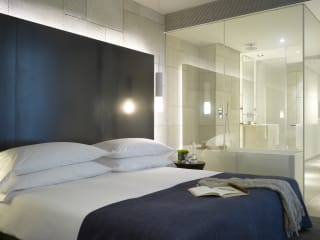 Negev Desert
Escape the bustle of Jerusalem as you venture to the vast Judean desert, traveling either by private transfer or helicopter for the ultimate adventure. With your expert guide as storyteller, be dazzled by the dramatic UNESCO-listed mountain top ruins of Masada – the setting of the final Jewish resistance to Roman rule. Adventure awaits as you swim past amazing salt crystal formations in the Dead Sea, followed by a memorable lunch on the shore.

Traveling south towards the ancient Negev desert, be captivated by the lunar-like terrain of this vast landscape, spanning over half of Israel from the northern Judean Hills to the shores of the Red Sea. Descend from the imposing Atzmaut Ascent into the depths of the expansive 200-million-year-old Ramon crater (Makhtesh Ramon) in a private jeep safari. Then continue deeper into the desert wilderness to unwind for a few days in the total serenity of Six Senses Shaharut for a truly magical experience. Nestled into a dramatic cliff in the southern Negev desert, soak in endless views across the majestic Arava Valley. Continue your discovery of this magnificent desert landscape with an array of active pursuits, from camel safaris and hiking to bird watching and desert winery tours. If pampering is more your style, retreat to the blissful Six Senses Spa for a rejuvenating treatment to restore mind, body, and soul.

Accommodation: Six Senses Shaharut ( 3 nights )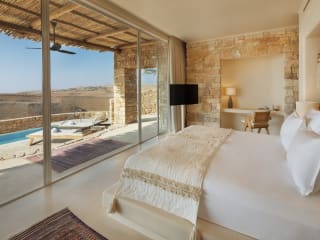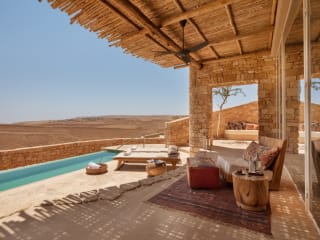 We design each itinerary around you, so this suggested itinerary is a starting point that we can tweak or transform into something completely bespoke to you.
Call us on

858 523 9000

to start planning your holiday.
---
Experiences included in this itinerary
Ramon Crater Jeep safari and Avdat tour

Descend into the expansive 200-million-year-old Ramon crater in your private jeep, before continuing into the desert wilderness to discover the magnificent UNESCO-listed site of Avdat.

Read more
---
When to visit
The best time to visit climate-wise is in spring (March to May) and autumn (September to November), when the daytime temperatures aren't too extreme. Winter can be cold and rainy in some areas.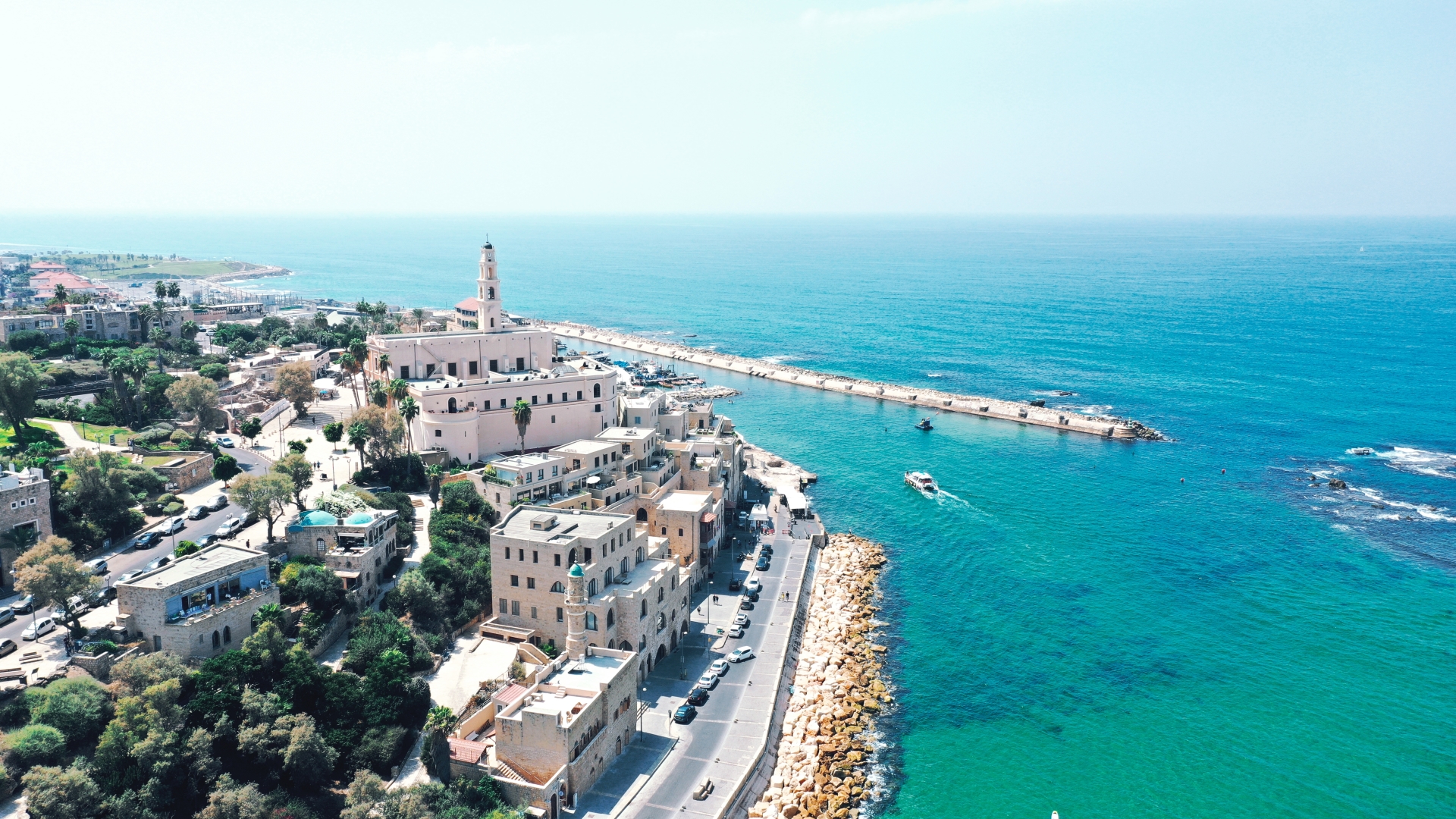 Limitless Israel
We design each itinerary around you, so this suggested itineraryis a starting point that we can tweak or transform into something completely bespoke to you. Call us on 858 523 9000 to start planning your vacation.
Plan your trip
Why Scott Dunn?
Unique to You
We listen to your travel goals and craft unique trips that are bespoke to you.
We're with you every step of your life's travel journey, from honeymoons to family trips and beyond.
Seamless Service
Global offices in the UK, US, and Singapore for 24/7 seamless service.
We offer flexibility if your plans change so you can book with confidence and peace of mind.

Carefully Curated Collection
We've curated an elevated collection of accommodation, experiences, and guides.
Committed to fostering close global relationships to continue bringing you unique experiences.
Luxury in Every Sense
We deliver a sense of luxury that matters most to you.
Awarded Condé Nast Traveler's Top Travel Specialists in the World 10 years in a row.


Plan your trip
Please tell us a few details about your vacation plans and provide your phone number so we can call you back..