---
Rooms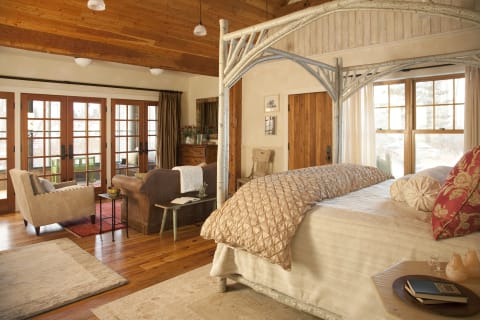 Palomino
In the Lodge, King canopy bed , with views to the southeast, on the upper level.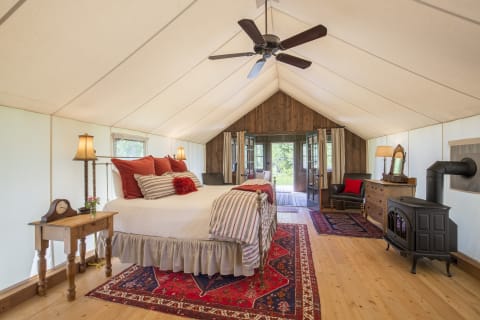 Classic Canvas Cabin
The 4 Classic Canvas Cabins each 630 square feet; feature a spacious main room: The Rainbow & Apache cabins include both a king and queen bed, along with a comfortable seating area with a pull-out sofa; The Gila & Bull cabins include two queen beds and a love seat. Each of the cabins has a gas fireplace, screened-in porches and decks. There are private bathrooms in the bathhouse for each cabin, accessed via a short, lighted walkway, and a convenience privy connected to each as well. Rainbow will accommodate up to 3 guests, with a minimum of 2 guests.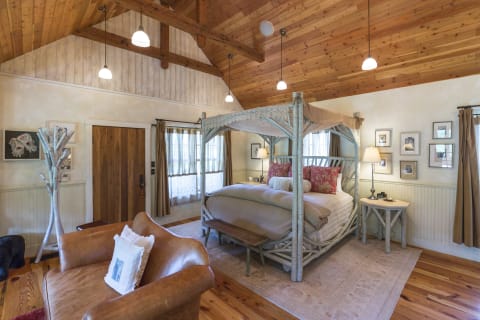 Bluebird
This 950-square-foot, one-bedroom cabin offers privacy, space, and some truly remarkable amenities. The primary living space has a king canopy bed and twin pull-out, and its appealing décor is enhanced by an audiophile-quality sound system and hidden flat screen television. There is a quiet sitting area, and the full bath with deep tub and 8-person sauna deliver welcome relaxation. A heated, screened porch offers the chance to enjoy the sounds of Rock Creek all year long, which flows just a few feet from this stunning cabin.