Ultimate Luxury
Nihi Sumba
Nihi Sumba is a remote, luxury eco lodge on the island of Sumba. Just a short flight from Bali, it is a place for a totally unique holiday experience, perfect for those wanting a remote and exclusive stay in one of the most stunning locations on earth.
Sumba Island, Indonesia
You won't find a similar experience on Bali or one of the more populated Indonesian islands - this is a wholly unique experience and we would thoroughly recommend it

Nihi Sumba's exclusivity and privacy is unrivalled

This stunning resort is situated between the lush jungle on one side and picturesque beach on the other

Surfing and fishing are sensational from Nihi Sumba and all are right on your doorstep
---
Nihi Sumba was born from a vision to protect and preserve the unique culture of Sumba and empower the local communities to support themselves and their families. The resort is proud to employ over 90% local Sumbanese, a team that hold a genuine spirit of hospitality. This means service can sometimes be a little slow, but we feel that adds to the charm. Guests here have a chance to experience an adventurous holiday in a dramatic, unparalleled setting. The island of Sumba has an ancient culture, untouched by the modern world and a visit to the villages of megalithic tribes is fascinating.
With lush jungle on one side and the exclusive beach and Indian Ocean stretching out as far as the eye can see on the other, the property encompasses 175 hectares of tropical forest, rice terraces and grasslands, while its stunning two and half kilometres of beachfront are protected by headlands that ensure total exclusivity. With an idyllic setting that is pristine, romantic and endlessly peaceful Nihi Sumba is the perfect tropical retreat for honeymooners, couples and families alike.
Tucked amongst the trees are Nihi's 21 villas that represent the cutting-edge of responsible luxury. Hand-built by local craftsmen using materials indigenous to Indonesia, all the villas are air-conditioned with panoramic views. All of the villas are the epitome of understated luxury, featuring spacious outdoor living areas and private Bales. The emphasis is on open-plan living that reflects the simplicity and beauty of Sumbanese architecture.
The principle residence, comprising two bedrooms crowned as Raja Mendaka takes prime position on the beach front with private access to Nihiwatu beach and a large outside teak deck with a cold dip plunge pool integrated into the 19m long swimming pool.
The three two-bedroom beach side villas are perfect for family adventures of for groups of friends travelling together. Each of the beach villas feature large relaxed open-air entertaining spaces complete with private dining, bar and kitchens and a dedicated Mori Uma (Butler) service.
The Marangga Wave Front Villas are traditionally Sumbanese in design with an extraordinary bed taking centre stage with undisturbed views of the Indian Ocean. These villas offer secluded privacy for honeymoon couples.
Nearby you will find a rustic living and dining room and adjacent is the cliff-top bar overlooking the sea. On the beach below, nestled under a grove of Pandanus trees, is the jungle spa and close by is a rustic boat house and bar that is the focus of a myriad of daytime watersports activities. Just uphill and overlooking the full length of Nihi's beach is a swimming pool area where you can lose yourself in the views for hours on end. To rejuvenate the body and soul, indulge in massages and body treatments available at the Jungle and Hilltop Spas. Nihi Sumba also have private and group Yoga instruction available under the largest traditional Sumbanese structure on the island.
Enjoy the many water sports or land activities, from fishing and yoga to horse riding along the beach at moonlight. Nihi Sumba Island boasts one of the top waves in Indonesia, if not the world and the professional surfers who have visited Nihi Sumba Island over the years have attested to this.
A stay at Nihi Sumba Island, without doubt, is a once in a lifetime, unforgettable experience.
When to visit
Top tip:
When I was there I went for a 2 hour walk along the beautiful beach and didn't see another soul, aside from 2 local children playing in the surf.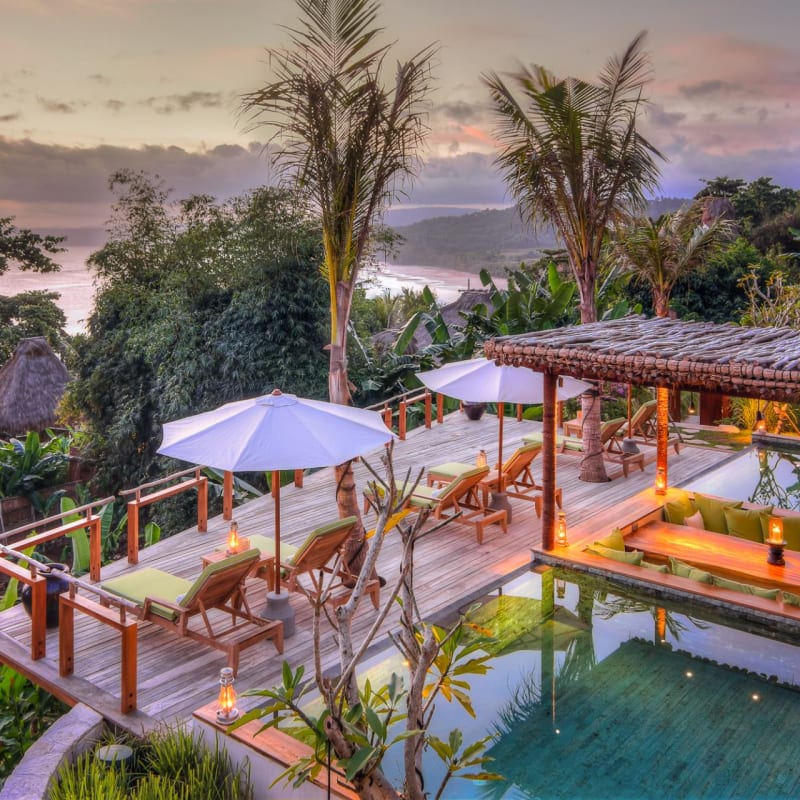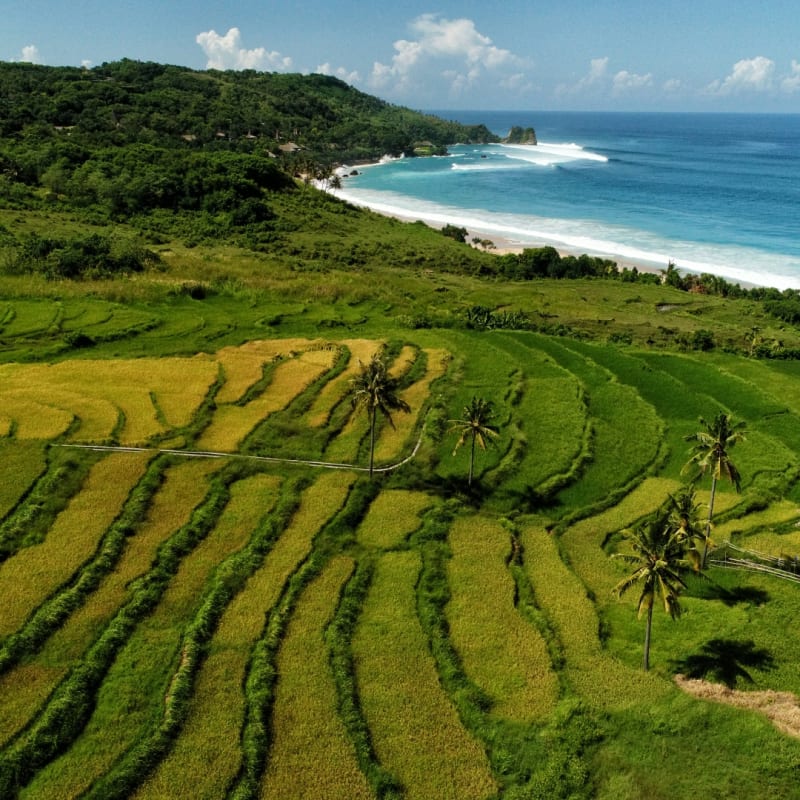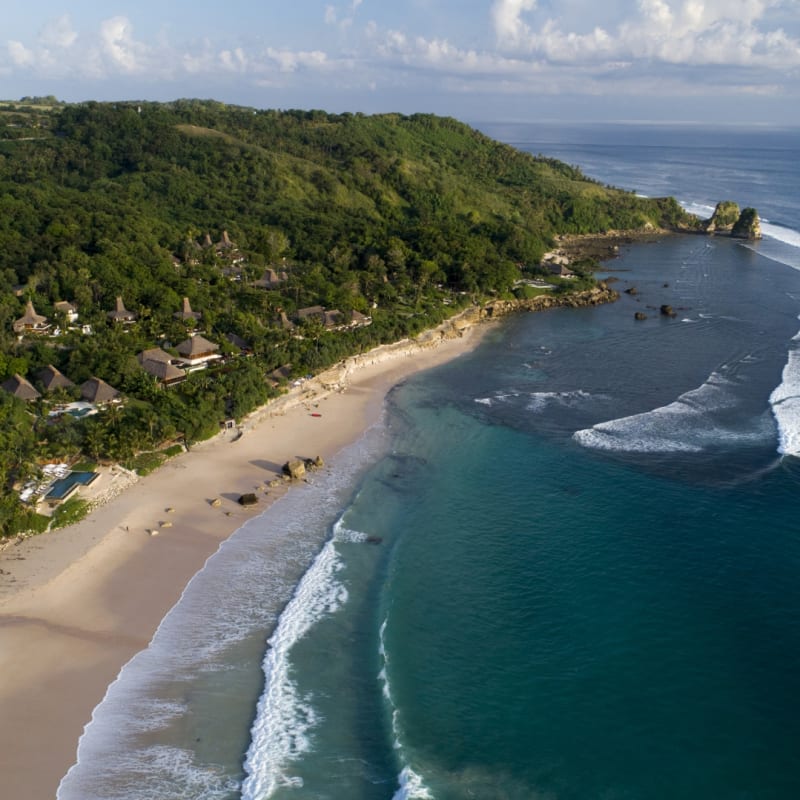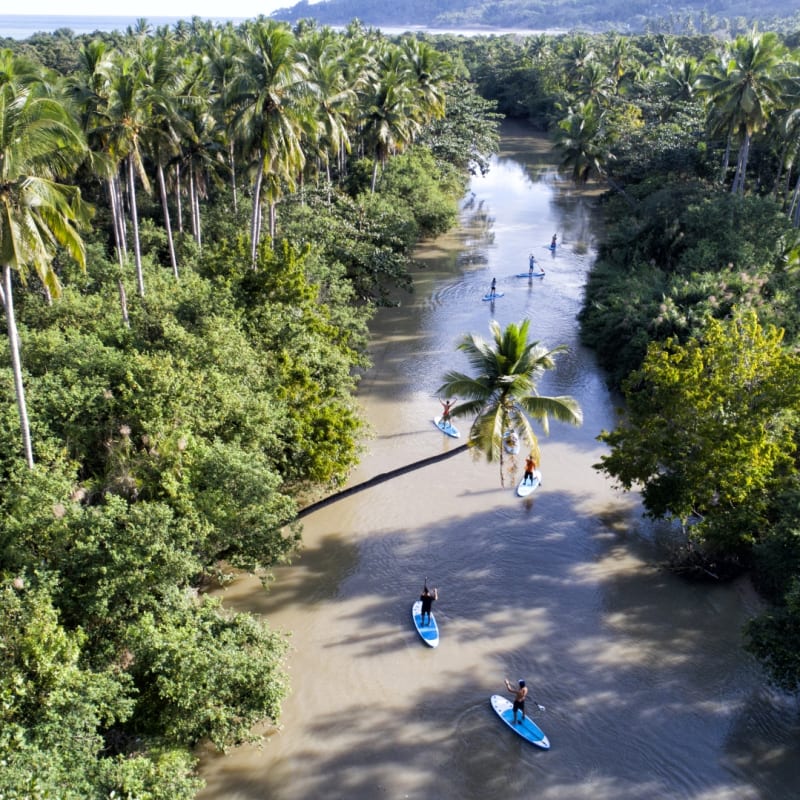 ---
Facilities
Horse Riding
Horse Riding
---
Location
Nihi Sumba Island is in a secluded bay on the remote southwestern coast of Sumba island surrounded by tropical forest and rice terraces, to the east of Bali, Indonesia.
Fly into Ngurah Rai International Airport in Bali and have a chance to explore as you stay overnight, then take a connecting flight in the morning to Tambolaka airport on Sumba Island. From there, a 90-minute drive through the magnificent countryside brings you to Nihi Sumba Island.
---
Our Top Tours Featuring This Hotel
Extraordinary Indonesia

Experience a trip like no other around one of Asia's most diverse archipelagos, with thrilling adventures at every turn! Watch a magical sunrise over the world's largest Buddhist temple, soak up Balinese culture, explore bustling markets and experience new flavours, swim in crystal clear water teeming with marine life and go in search of the mighty Komodo Dragon. Finish up at a one-of-a-kind luxury eco-retreat boasting world-class beaches, your own infinity pool and a private butler!

View Tour

Family Fun in Indonesia

Indonesia offers a wealth of activities for families, with this itinerary specifically designed for those with teenage children seeking out some serious soft-adventure on both land and sea. From eye-opening cultural excursions, snorkelling, and volcano biking in Bali to a luxury beach retreat offering hiking, fishing, surfing and horse-riding, there is plenty to keep all the family entertained.

View Tour
---
Top Things to Do Nearby
Nihi Sumba Island - Sumba Foundation

Discover the Sumba Foundation, the philanthropic arm to Nihi Sumba Island. The Sumba Foundation has had an incredible impact across the island, enriching lives of local people. Learn all about the work and find out how you can help.

View Experience

Nihioka Spa safari at Nihi Sumba Island

This unique wellness activity includes a 90-minute hike or jeep ride through Sumba's incredible landscape and local Sumbanese village, secluded beach breakfast and your choice of all-day treatments in beautiful and remote surroundings.

View Experience
You are on our UK website
We noticed that you are in US and recommend that you explore our US website instead.