Virgin Atlantic and Delta Air Lines®
Virgin Atlantic and Delta Air Lines have joined forces to enhance their trans-Atlantic network and make the flying experience as convenient and seamless as possible. Virgin Atlantic has a fleet of 40 Airbus and Boeing aircraft and counting, and flies to over 30 destinations around the world. Delta Air Lines is one of the largest airlines in the world and together they offer an impressive global network.
Virgin Atlantic Upper Class
The Virgin Atlantic Upper Class experience starts before you even board the plane.
Your seat is set in one of a luxurious Upper Class Suites and transforms into a fully flat bed at the touch of a button. Each suite has aisle access and a 12.1'' touchscreen TV.
Explore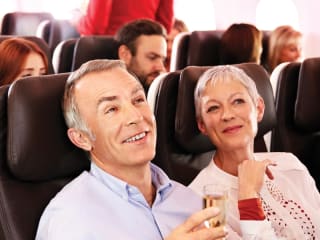 Premium Economy
When you board the separate Premium Economy cabin, you will be greeted with a welcome drink, more personal space, delicious meals and of course onboard wifi and award winning entertainment.
Explore