---
Rooms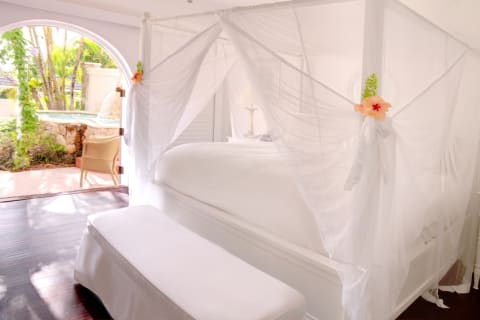 Luxury Sugar Mill Room
The spacious Luxury Sugar Mill Rooms are located close to the heart of Sugar Beach, A Viceroy Resort with expansive views of the resort's tropical gardens and palm lawn. Each room has a private walled garden and plunge pool and boasts the same plantation elegant styling associated with the resort's luxury villa category. The 11 Luxury Sugar Mill Rooms are within easy reach of the resort's Great House, the swimming pool and the white sands of Anse des Pitons. The majority have lovely views of Gros Piton across the waters of the Sugar Mill lily pond and the ruins of an 18th century sugar mill.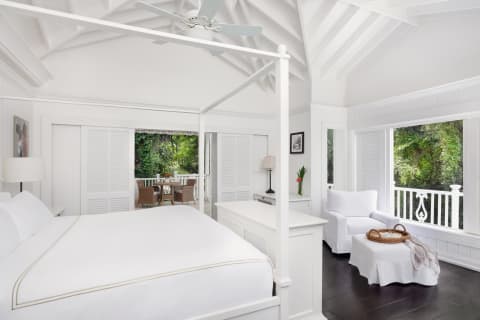 Luxury Villa
Luxurious yet unpretentious, the Luxury Villas at Sugar Beach, a Viceroy Resort feature gracious plantation styling with an emphasis on seclusion, comfort, relaxation and ultimate escape. Quintessentially Caribbean in style, the Luxury Villas perfectly embody the beauty and tranquility of their surroundings. Take in the incredible Piton mountain views or expansive vistas across the waters of Anse des Pitons as you stretch out on your private patio or refresh in your private, oversized plunge pool. The spacious, breezy bedrooms invite respite from the Caribbean sun with their crisp, white palette. Elegant hardwood floors and custom-made furnishings, including a dreamlike four-poster bed, romantic voile draping, sensually soft sofas, and a tropical sanctuary feel, re-emphasize the indulgent St Lucia villa ambience.
Grand Luxury Villa
Incomparable luxury and supreme privacy combine in the beautiful Grand Luxury Villas at Sugar Beach, a Viceroy Resort. Featuring abundant space to accommodate families with young children or couples and honeymooners seeking ultimate seclusion, our magnificently appointed one bedroom Grand Luxury Villas in St Lucia offer an unforgettable setting for once-in-a-lifetime vacation experiences.
Designed as an inspired take on classic plantation style, the Grand Luxury Villas feature contemporary Caribbean décor with hardwood floors throughout.
Large air-conditioned living rooms includes a sofa bed, flat screen TV and lavish furnishings to ensure the utmost in comfort. Some rooms incorporate a second half bath with a shower, hand basin, and WC. French windows in living rooms open out onto spacious, open-air furnished verandahs with private sundecks and large plunge pools.