Mid-range
Meghauli Serai, Taj Safaris
A fantastic addition to the Taj Safaris portfolio, Meghauli Serai sits in the Chitwan National Park, a serene wilderness adventure. Delve into the heart of the jungle, spotting incredible wildlife from rhinos, leopards and with lots of luck even tigers
Chitwan National Park, Nepal
Enjoy a refreshing dip in your private plunge pool after a day exploring

Excellent guides combined with the renowned hospitality of Taj

Specatularly situated on the banks of the Rapti River

Unique experiences from getting up close to the wildlife with walking safaris and canoeing down the river
---
Brought to you by Taj Safaris, Meghauli Serai can be found in the Chitwan National Park, a short 20-minute flight from Kathmandu to nearby Bharatpur. As Nepal's first national park, Chitwan, 'the heart of the jungle', is a rich natural area renowned for its protection of one-horned rhinoceros, the Royal Bengal tiger and gharial crocodile.

Nestled at the foot of the Himalayas, Taj have brought its legendary hospitality to Nepal. The location of the lodge itself is perfect, sitting directly on the banks of the Rapti river offering spectacular views. Nepal is still alluring as ever and with Chitwan spanning nearly 1,000km, here guests can discover the wild side of this beautiful country.

Start your day with breakfast in the park, amongst the natural surroundings you might be joined by some unexpected visitors. Other unique experiences include safari drives with knowledgeable naturalists and for the brave hearted jungle walks will get you even closer to the action. Canoeing down the river is also a perfect option for those wanting a different vantage point to spot some incredible wildlife.

Blending in perfectly with it's surroundings, the lodge has a earthy tones with pastel hues combined with modern facilities you'd expect from Taj. There a selection of modern rooms to choose from with balconies looking out over the grasslands. A exquisite presidential suite or sixteen luxury villas are also available, with each suite enjoying its own private plunge pool and views overlooking the flowing river.

Expect a dining experience like no other at Meghauli Serai. Fresh and local produce are sourced from the property's organic garden which is cooked up in a traditional Newari and Tharu style. Have a true bush dining experience getting to know your fellow travellers and sharing stories over the crackling fire. For a more romantic atmosphere, private dining can also be provided by the pool where you can savour the chef's gastronomic delights.

Learn about the biodiversity of the park, the hundreds of different bird species and animals that have built their habitats here from sloth bears, leopards and infamous tigers. Learn how important the conservation of the park is for their survival.

Easily accessible from Kathmandu, combine the discovery of these lowlands with a longer trip through other parts of Nepal or the Indian Subcontinent, a magical and compelling part of the world.
When to visit
Top tip: Rhinos are regularly seen in front of the property keep your eyes peeled as you swim!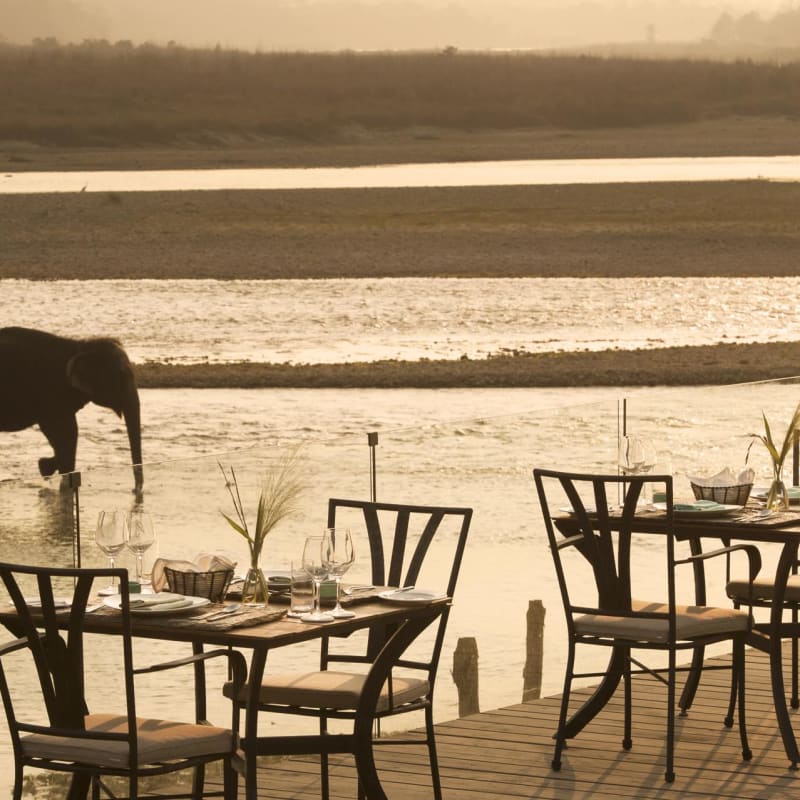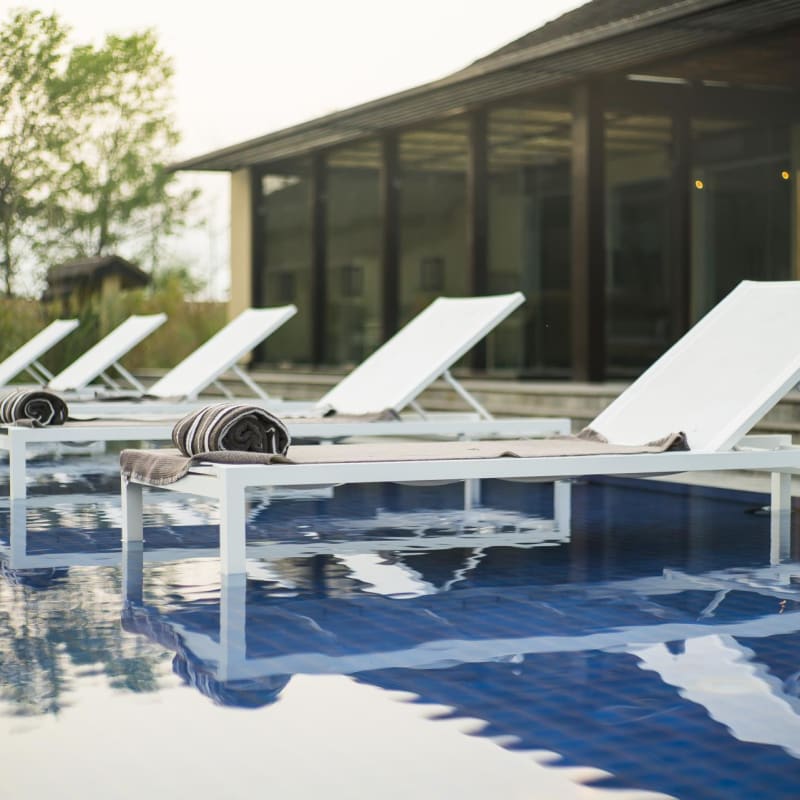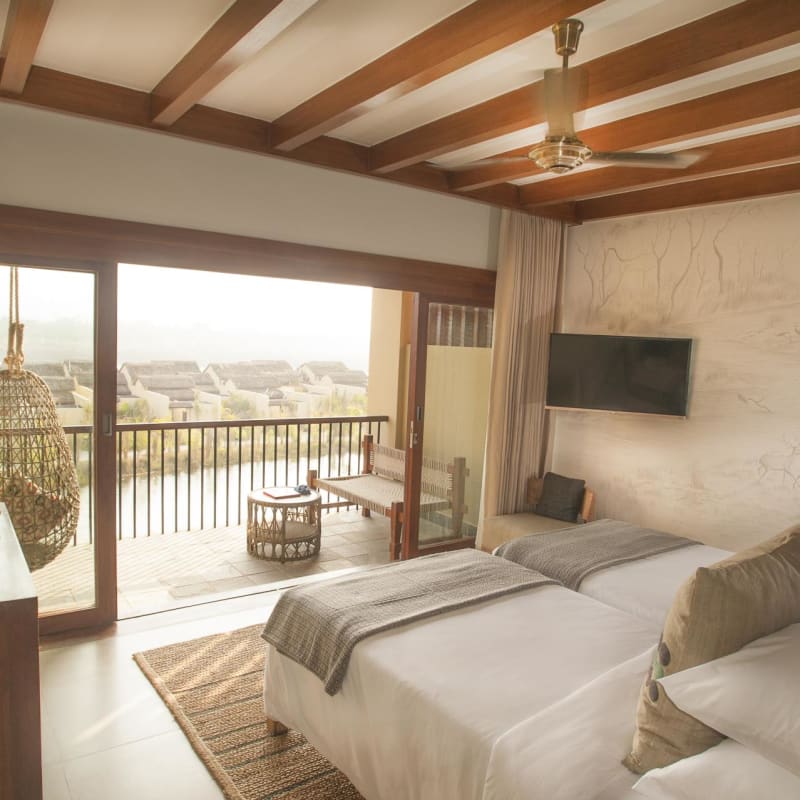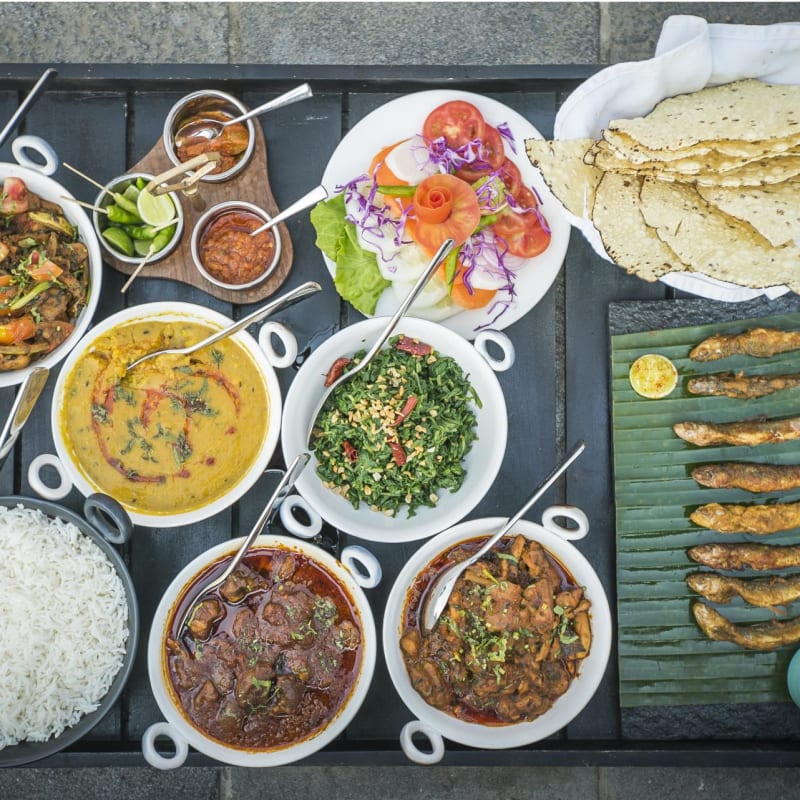 ---
Location
Chitwan National Park, Nepal
Meghauli Serai is located in Chitwan National Park to the south of Nepal.