---
Rooms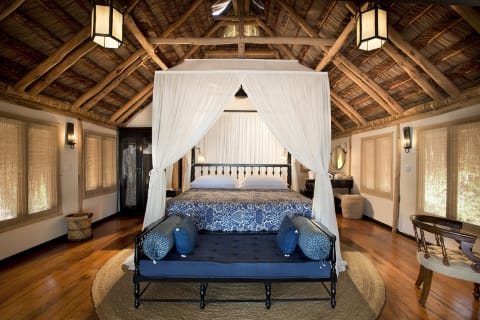 Cabanas
There are just two thatched Cabanas set in the lush island forest. These light and airy rooms combine tropical chic with a traditional African feel and are ideal for couples or honeymooners. The Cabanas are slightly smaller than the Casinhas but still boast ensuite bathrooms, freestanding bathtubs and an outside shower. Other facilities include a private rim flow pool, a private deck as well as a private sala with a romantic hanging day bed.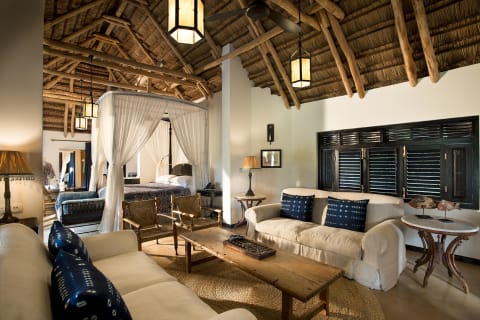 Casa Familia
Ideal for groups or families, the Casa Familia features a large main guestroom with a private lounge area, with two additional interleading rooms on either side. Each Room has an ensuite bathroom and outside shower and the interlinking hallways between rooms are used as walk in wardrobe space. Additional facilities include a pool overlooking the beach surrounded by a large private deck.
Casinha
There are 10 thatched Casinhas slightly set back from the beach in the lush island forest. The interiors are light and airy in design and are reminiscent of the areas Portuguese heritage combined with a distinct African Feel. Each Casinha boasts an ensuite bathroom with free standing bathtub and shower, a small sitting area and private deck as well as a private cool rim flow pool.