Boutique Luxury
Etosha Mountain Lodge
Situated on the southwest border of Etosha National Park, this safari-chic lodge offers amazing game activities and spectacular views. Hidden away in the exclusive Etosha Heights Private Reserve, the lodge is both private and away from the crowds.
Etosha, Namibia
---
The vast and unforgiving landscape may look fairly uninhabited at first glance, however, game drives in Etosha Heights Private Reserve are both rewarding and memorable. You might come across elephants crashing through the bush, an endangered white rhino ambling along, or some plains game such as kudu, springbok and gemsbok meeting at the water to drink. As you look around you might notice a vast open savannah that is peppered by mopane woodland, thick riverine forest and watering holes that attract animals down to drink. Some predators to watch out for are lion, cheetah and even some leopard if you look close enough. Head out to the watering hole at midday to spot as many animals as you can, enjoy morning, afternoon, and night game drives, or head out to track the rhinos.
The lodge itself consists of seven chalets (six twin and one family) with 180 degree panoramic views over the reserve. Chalets have a safari-chic style and the main areas of lodge continue to offer breathtaking views as well as a swimming pool to relax in on a hot afternoon.
Etosha Heights Private Reserve is well-known for its conservation initiatives and plays an important role in the wildlife and human conflict of the area. A highly effective anti-poaching team works on the reserve to protect the black and white rhino populations, and a lion conservation initiative helps to protect lions in the area.
When to visit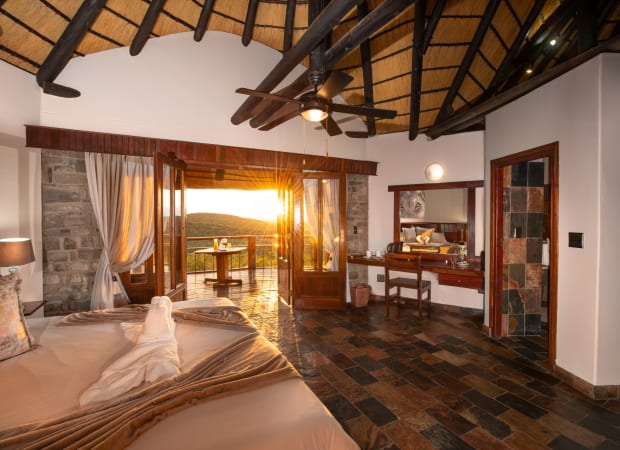 ---
Game drive in Etosha National Park

Venture into the Etosha National Park on game drives. The vast Park covers 22,270 km² and is home to a wide range of birds, mammals and reptiles. Due to the arid nature of the park the game congregates round the waterholes to drink.

Read more
Other properties you may be interested in…