Mid-range
Novotel Beijing Peace Hotel
Located in the city center, just a short walk from Wangfujing Street, and very close to Tiananmen Square and the Forbidden City, the 389 rooms of Novotel Beijing Peace Hotel are in a prime location for getting to know the city.
Beijing, Beijing & Around, China
The Novotel Beijing Peace Hotel is ideally located in central Beijing close to the vibrant area of Wangfujing. It is within walking distance of the Forbidden City, Tiananmen Square and shopping malls.

The Square Restaurant has an Asian and International buffet as well as offering a la carte menu. Le Cabernet is located in front of the hotel and offers French cuisine for both Lunch and Dinner.

The Hotel has an indoor swimming pool and a fitness center and offers bicycles for those wishing to explore the city independently.
---
Each of the Novatel's modern rooms is ample sized and equipped with all the modern amenities of a city hotel. There is also the option to upgrade to a Club Room, which will grant you access to the Lounge where you can enjoy breakfast with great views of The Forbidden City. This is also a good option for families, as the hotel has larger rooms to accommodate the whole family and a play area for children.
The hotel is well located to explore the city. Conveniently, the main railway station is a short fifteen minute walk away, the shopping hub of Wangfujing is on the hotel's doorstep, and key attractions such as the Forbidden City are within walking distance.
The hotel has two restaurants including an all-day buffet restaurant offering international cuisine and an a la carte French restaurant, La Cabernet, which is located in front of the hotel. There you can enjoy the elegance of French décor paired with delicious French cuisine, only a stone's throw away from your hotel room. The extensive dining options mean there is something for all tastes to enjoy in a stylish setting.
The hotel has an indoor swimming pool as well as a small fitness center.
When to visit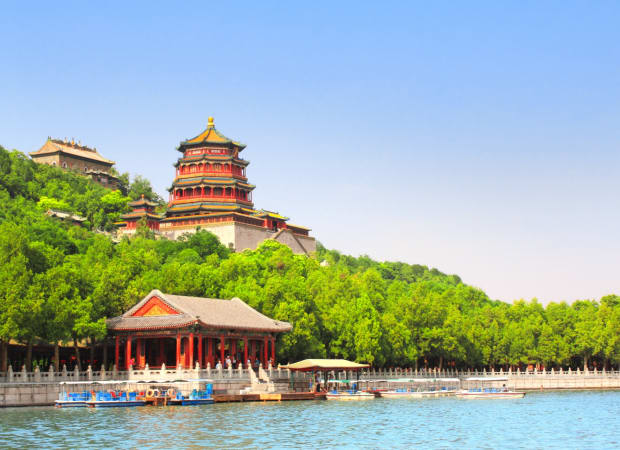 ---
Top Things to Do Nearby
Summer Palace Exploration

Discover the enchanting Summer Palace, one of the most well-preserved of palaces in Beijing. Stroll through the beautiful gardens and take a shared boat ride on Kunming Lake.

View Experience

Visit The Great Wall of China at Mutianyu

Enjoy a half day tour to The Great Wall of China. This visit will take you to Mutianyu and although further from the city it offers a much more natural Wall experience as it is less visited, enabling one to appreciate the stunning countryside.

View Experience

Visit to The Temple of Heaven & The Summer Palace

Visit The Temple of Heaven and The Summer Palace on this full day tour. The Temple of Heaven is one of China's most iconic sacrificial monuments meanwhile The Summer Palace, a World Heritage Site, was built as a luxurious royal garden for royal families.

View Experience