Mid-range
Aurora Village
Aurora village offers cosy Aurora Cabins where you can relax in your bed and watch the sky above through a glass ceiling. With just 25 cabins there is plenty of privacy for you to enjoy excellent service and the surrounding Lapland winter wonderland.
Ivalo, Finnish Lapland
Gaze up at the stars from the comfort of your bed, hoping with luck that the Northern Lights appear

Take some food to the friendly reindeer herd who reside at the hotel for a close encounter with these majestic animals

Venture out onto the frozen lake to try curling or ice skating

Relax in the outdoor hot tub as you marvel at the surrounding winter wonderland
---
The Aurora cabins are centerd around a small enclosure where, during the winter season, a small herd of reindeer roam. Each morning, guests are invited along with staff members to feed the reindeer, offering you a wonderfully close encounter with these enchanting animals. The cabins are well spaced and not overlooked, offering you plenty of privacy as you move around inside.
The setting around the hotel is postcard-perfect as you are surrounded by woodland, overlooking a lake, which freezes over in winter creating the perfect spot for winter activities. Here, the hotel create an ice-skating rink and you can even have a go at curling! There is also plenty of other equipment on offer for you to try out as you can borrow snowshoes, cross-country ski's and fat bikes, which have thicker wheels to allow you to cycle on the snow.
The small cabins feature an en-suite bathroom with shower and a king size or twin beds. For families there is also a sofa bed and space for an additional roll away. The slanted glass ceiling is heated to allow for any falling snow to melt away, so that your view of the twinkling night sky is not obstructed. All meals are served in the elegant Loimu restaurant, serving up Lappish delicacies sourced from the purest nature in the world. Featuring a high, pointed ceiling the restaurant building is designed to emulate a traditional kota, a hut or tent used by the Sami people of Lapland. The central fireplace offers cosy arm chairs, making it the perfect spot to relax for a while post-dinner before adjourning to your cabin to watch the night sky.
The sauna is a real highlight here, designed on the same style as the cabins the windows instead open out to panoramic views over the frozen lake, so you can gaze upon the endless snowy wilderness whilst enjoying the warmth inside. The sauna can be booked privately alongside the outdoor hot tub where you can gaze dreamily at the setting sun or starry night sky.
When to visit
Top tip:
Feeling brave? Why not take an exillerating dip in the frozen lake before retreating to the warmth of the sauna!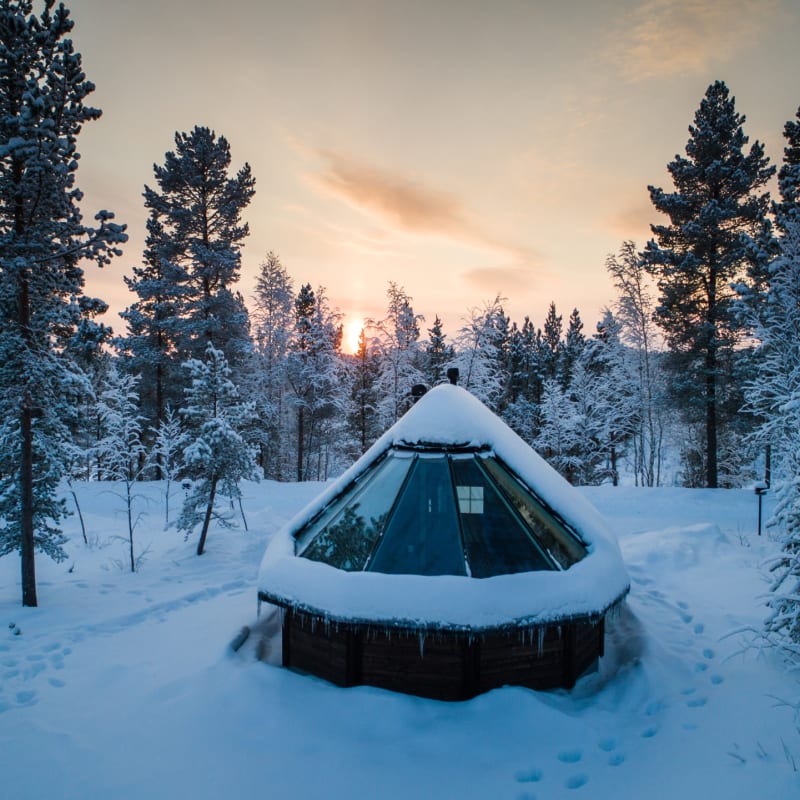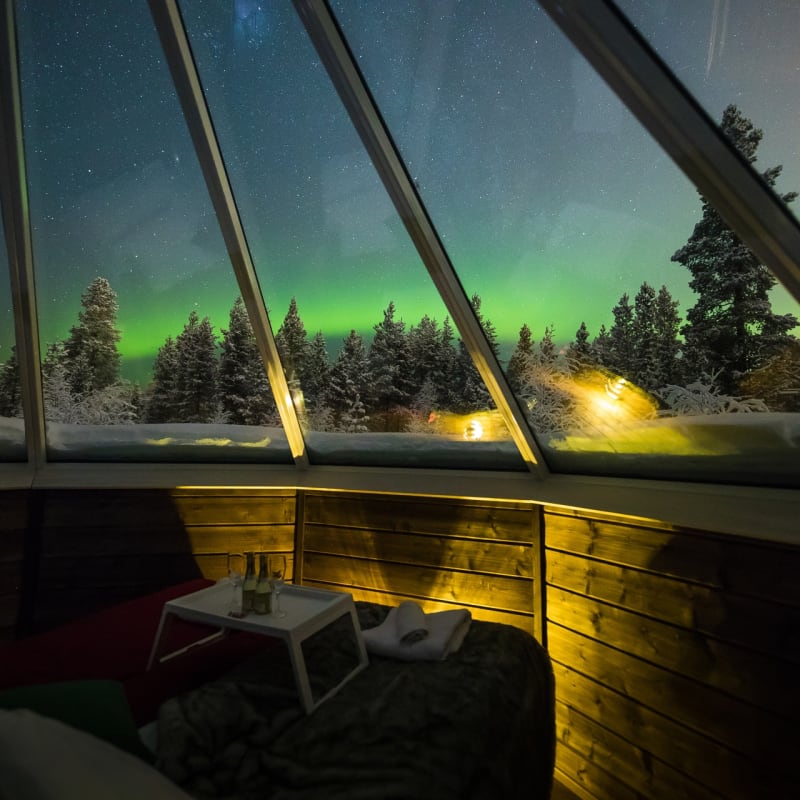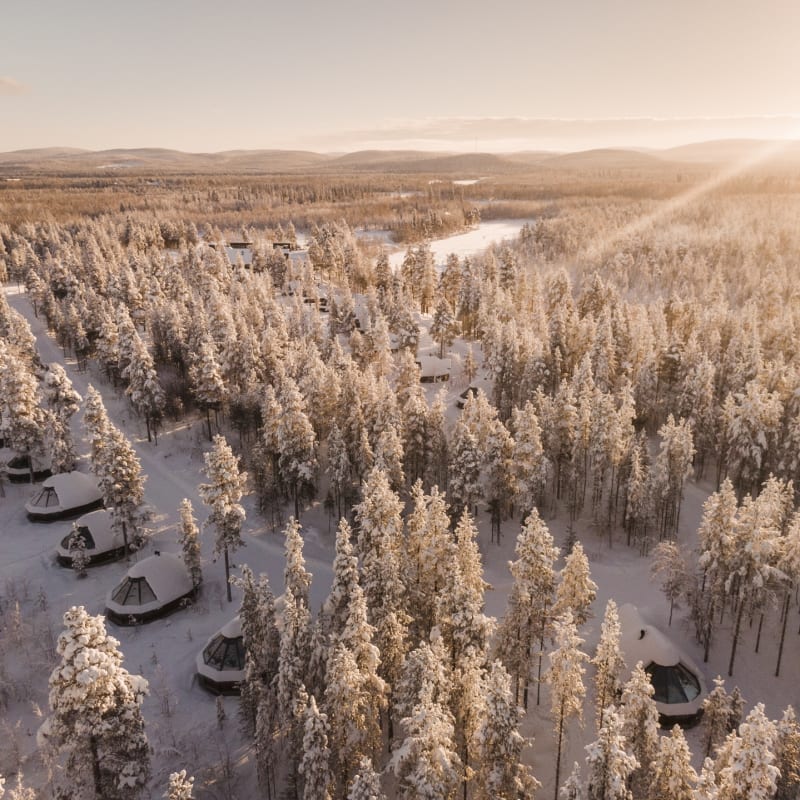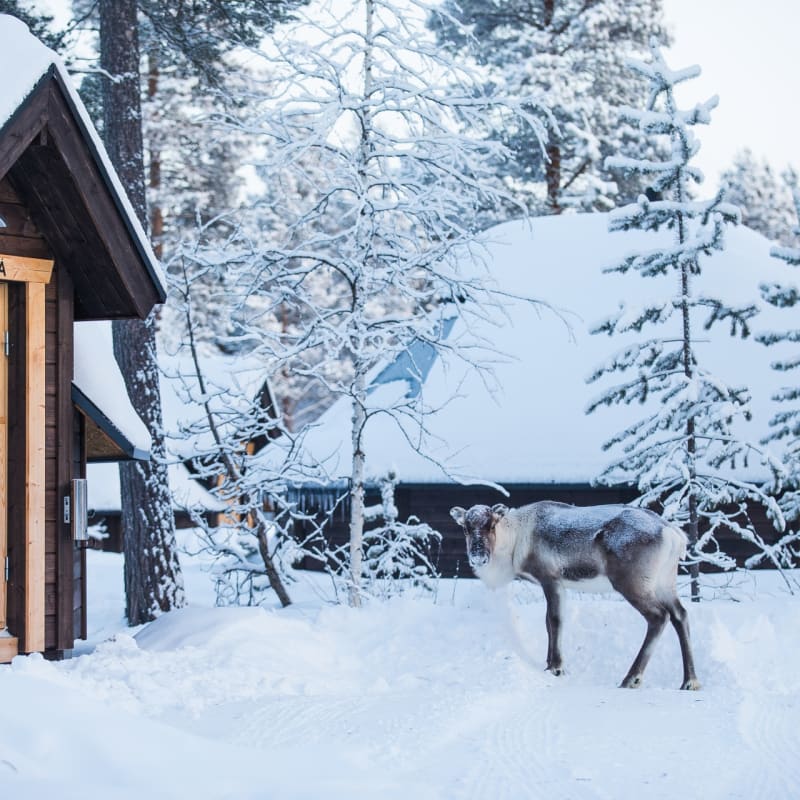 ---
Location
Aurora Village is located in the far North of Finland, above the Arctic Circle.