Sal Salis
Bringing the concept of 'Wild Bush Luxury' to the stunning and remote Western Australian coast, eco-friendly Sal Salis is an extraordinary tented camp in an awe inspiring location, hidden in the dunes just meters from the natural wonder of Ningaloo Reef.
Exmouth, Western Australia, Australia
Located in the dunes of one of Australia's most beautiful beaches this exclusive beach camp offers a true once in a lifetime expereince, swimming with whale sharks.

Camping doesn't necessarily mean sacrificing on luxury - the tents here are superb with sublimely comfortable beds and offer views of the dunes and ocean beyond.

Evenings here are magical as you join with other guests and enjoy sundowners and canapes as you watch that breathaking Western Australian sunset.

If you are lucky enough to be there between August and October you can take the plunge and swim alongside humpback whales.
---
Sal Salis is located in Cape Range National Park, sheltered in the sand dunes overlooking the Ningaloo Reef. The Ningaloo Region is renowned for its 280 kilometers of fringing reef and it is the best place in the world to swim with whale sharks and manta rays.
This luxury wilderness camp is the only way to see this beautiful part of the world and even though it is in such a remote spot, you still have more than enough creature comforts! Each tent is appointed with fine furnishings and linen and the dining room serves the best and freshest Australian produce, beautifully prepared by the resident chef and accompanied by fine wines.
The in-camp experience embodies laid-back luxury, and is designed to underpin the extraordinary nature-based activities that can be undertaken in the area. These include swimming in the amazingly turquoise sea and snorkeling amongst the brightly colored reefs, spotting the abundance of wildlife in and around the camp and stargazing in the clearest skies you will ever see.
A stay at Sal Salis is a truly unforgettable experience in one of the remotest, but most pristine wilderness locations in the southern hemisphere.
When to visit
Top tip:
The Ningaloo Reef is the largest fringing reef in the southern hemisphere, so make sure you enjoy plenty of snorkeling to see incredible coral, reef sharks, turtles, and an abundance of colorful fish.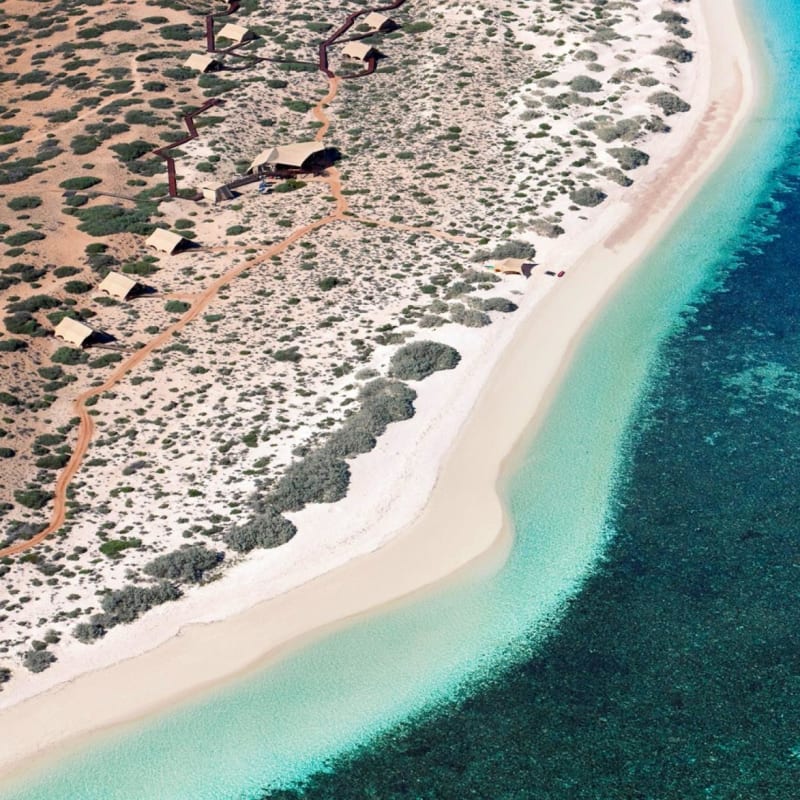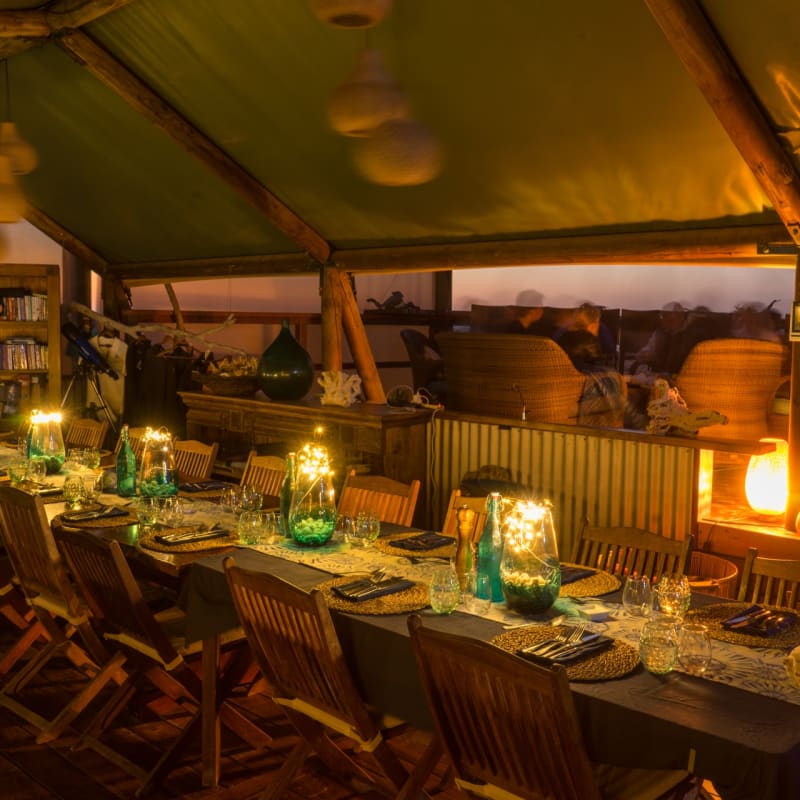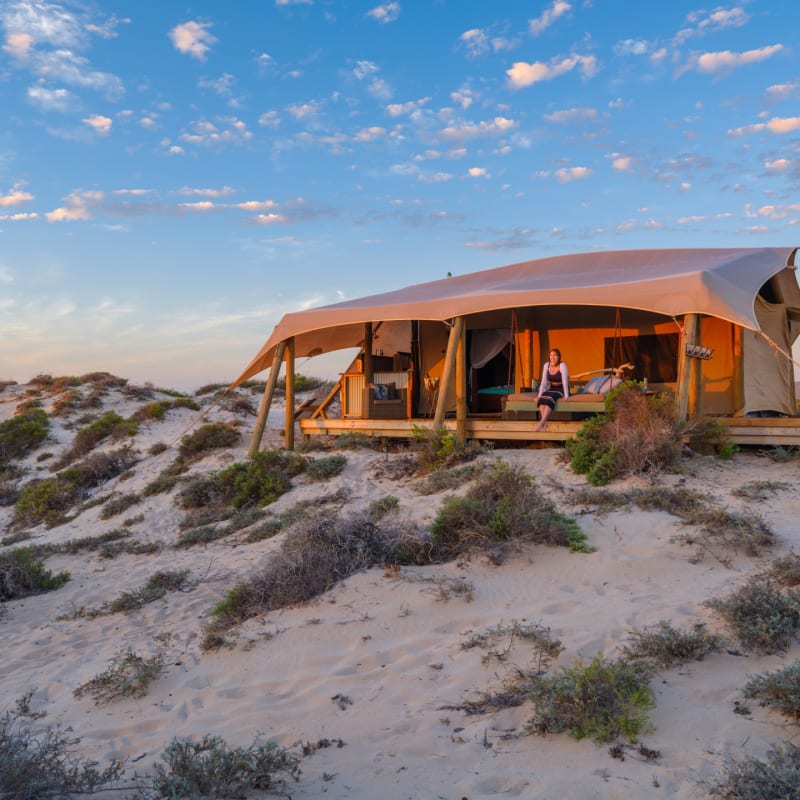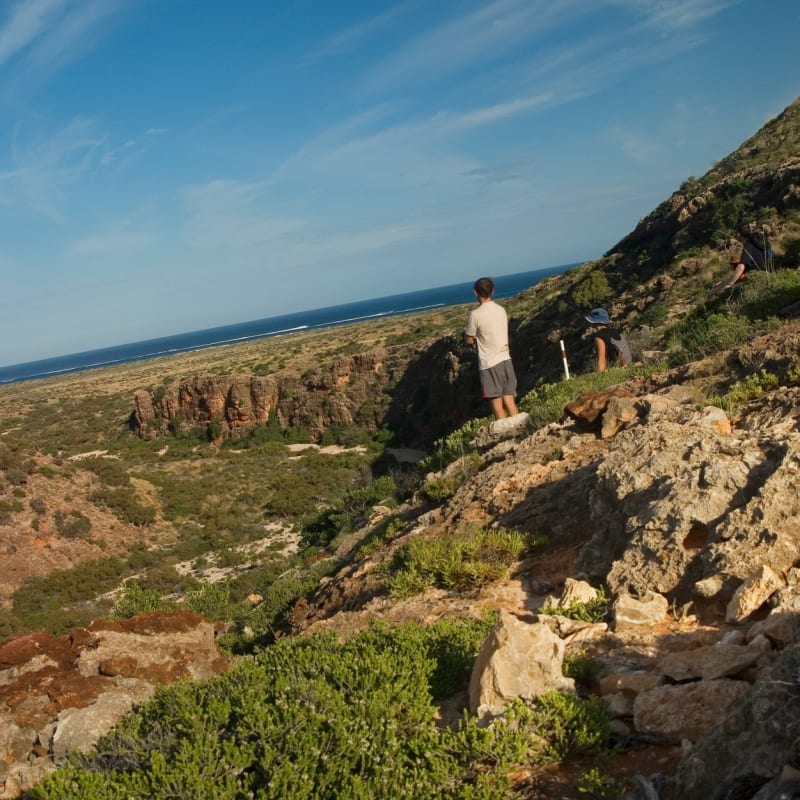 ---
Location
Exmouth, Western Australia, Australia
Located in the World Heritage Area of the Ningaloo Coast on the North West Cape. Sal Salis is an hour's drive (70 kms) south of Exmouth, in the Cape Range National Park. The tents are situated just 50 meters back from the beach amongst the low lying coastal dunes. 2kms behind the camp lies the limestone range of the Cape Range National Park, dissected by spectacular gorges.
---
Sal Salis - Swimming with Whale Sharks

Between April and July Ningaloo Reef becomes a magnate for migrating Whale Sharks. On this once in a lifetime experience, swim with Whale Sharks in Ningaloo Reef, one of the best places in the world to swim with these gentle giants.

Read more

Your Free Time at Sal Salis - Scott Dunn Suggests

Sal Salis has some terrific activities on offer to ensure you get the most out of your Ningaloo Reef experience. Try snorkeling in the coral reef where you may spot a turtle or two; guided sea kayaking; stargazing; and hikes through the local gorge.

Read more