Mid-range
Beresheet
Built into a ridge on the precipice of the expansive Ramon crater, Beresheet combines spectacular architecture with modern luxury, set in an unrivalled location in Israel's ancient Negev desert.
Mitzpe Ramon, Israel
Be captivated by the ethereal magic of the ancient Negev desert, spanning over half of Israel from the northern Judean Hills to the shores of the Red Sea

Indulge in a relaxing treatment at the Carmel Forest Spa, complete with Turkish Hammam

Floor-to-ceiling windows afford endless views stretching across this otherworldly expanse of desert

Marvel as the night sky lights up with an awe-inspiring display of constellations, guided by an expert astronomer
---
There is no better way to experience the vast, lunar-like desert landscape of Negev than at Beresheet, perfectly placed in Southern Israel's Mitzpe Ramon region. Rising from a northern ridge overlooking the Ramon crater and set to the backdrop of imposing mountains, this stylish property has been designed to flawlessly integrate with its natural surroundings.
A feat of architecture, Beresheet was constructed using natural rocks and stones, meticulously excavated from the surrounding desert cliffs. Sense a real physical connection to these ancient lands as you soak up the majestic vista of the Ramon crater from floor-to-ceiling windows incorporated into each of the property's rooms.
Formed over 200 million years ago, the Ramon crater – also known as 'Makhtesh Ramon' - is the world's largest erosion crater, spanning 40km in length and 500m in depth. This monumental natural phenomenon is unique to the Negev desert and Egypt's Sinai Peninsula.
Step outside to explore the wilds of the Negev – a secluded desert landscape that promises to delight with an endless array of adventures. Thrill-seekers can enjoy adventurous days exploring the depths of Ramon, descending into the crevasse by jeep, bicycle, or on foot. Roam through dunes and sandstone cliffs on a guided camel safari or soar above the rocky terrain at sunrise in a hot air balloon. Keep your eyes peeled for the elusive Arabian Oryx, a native antelope that has come back from the brink of extinction through conservation efforts.
After an active day in the desert, return to the calm oasis of Beresheet to cool off with a dip in the infinity pool or unwind with a treatment in the Carmen Forest Spa. A fine-dining experience awaits at the Rosemarine restaurant, serving richly flavored Israeli cuisine using locally sourced ingredients from surrounding desert farms. For a truly memorable experience, dine at one of the balcony tables that are seemingly suspended over the vast desert wilderness stretching out below you.
When to visit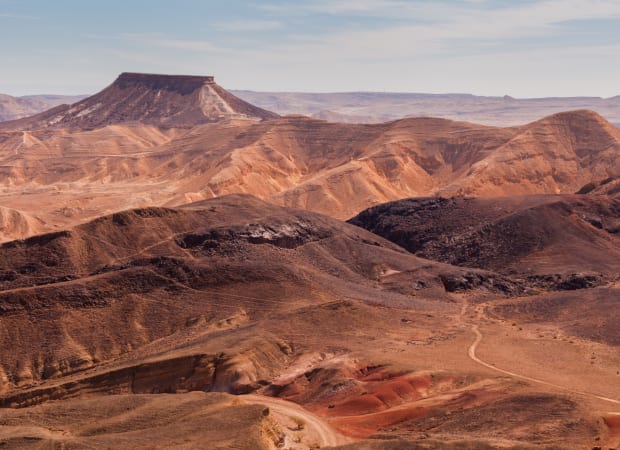 ---
Location
Beresheet Hotel is located in Negev Desert.
---
Ramon Crater Jeep safari and Avdat tour

Descend into the expansive 200-million-year-old Ramon crater in your private jeep, before continuing into the desert wilderness to discover the magnificent UNESCO-listed site of Avdat.

Read more