Honeymoon list service
Our honeymoon list service is a great alternative to a traditional wedding list. Your guests can make a contribution to your honeymoon, helping to make it the vacation you've always dreamed of.
How it works
Giving your friends and family the chance to contribute to your honeymoon could mean the difference between a nice romantic vacation and an unforgettable, out-of-this-world honeymoon.
The service works like any other list service, but instead of buying you specific gifts, your friends and family contribute money towards the cost of your honeymoon.
Once you've arranged your honeymoon with one of our specialists and you've paid a deposit on the vacation, we can provide you with some 'Honeymoon List Service cards' to send out with your wedding invitations. These inform your guests about your choice of wedding list, and give details of how they can contribute. Your guests simply call us to make a contribution, and payments are accepted by debit or credit cards. They will also have the option of leaving a personal message for you to accompany their contribution.
When a contribution is received, a receipt will be sent to your guest. Contributions will be accepted from the date you wish to open your list, and we'll send you monthly statements once the first contribution has been made.
90 days before you travel, we ask you to pay the remaining balance of your honeymoon (less any contributions that have already been received) however we'll still accept contributions from your guests until up to two weeks after the date of your honeymoon. The excess collected will be reimbursed to you once the final account has been closed.
For more information, please call us on +1 (858) 523-9000.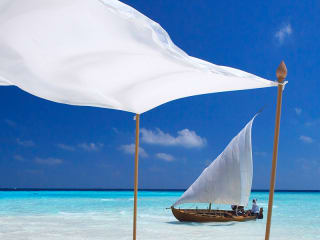 Contribute to a honeymoon
Thank you for taking the time to visit us here at Scott Dunn. We provide bespoke vacations around the world and delight in putting together the trip of a lifetime for all our honeymoon couples.
Explore