Ultimate Luxury
Lake Abashiri Tsuruga Resort
A stylish hotel that blends traditional Japanese design and cultural heritage with contemporary chic, Lake Abashiri Tsuruga Resort offers both Japanese and Western-style rooms with the option of a private onsen.
Lake Abashiri, Hokkaido, Japan
A stylish blend of traditional and contemporary design

Quirky design touches include a Chair Gallery and Fire Tower

Private onsen bathing available
---
The Hokuten no Oka, or Lake Abashiri Tsuruga Resort, pays honour to the indigenous Okhotsk people throughout the resort. The main lounge is dotted with wooden carvings and artifacts used by these ancient people over 1,000 years ago, while the Fire Tower in the grounds, which houses a footbath, echoes the shape of the Okhotsk tents. This cultural heritage combines well with the hotel's modern sleek lines and slightly quirky touches, such as a fire-pit in the main lounge, where guests can toast marshmallows, and a Chair Gallery. A 15-minute drive from Abashiri Station, the hotel provides a free shuttle bus if required, or for those flying into Memanbetsu airport, it's a 20-minute drive to the hotel.
Standard rooms include twin beds, seating area, en-suite bathroom, TV, fridge, and tea and coffee-making facilities. Upgrades include balconies and larger living areas. Japanese-style rooms include tatami mats and furniture with futon beds, while rooms sleeping up to five guests include twin beds with additional futons. Families of four can choose a studio apartment with kitchen, living, dining area, twin beds and two futons. For the luxury of a private onsen, the suite accommodation includes an outdoor deck with hot spring bath as well as a massage chair.
The Okhotsk-style buffet serves creative and quality dishes, while for traditional multi-course kaiseki dining, head to Kaiseki ,or French cuisine is served at Tou Tou. Alongside the restaurants, the main lounge has complimentary marshmallows to toast over the fire and guests can also snack at the Ramen Noodle corner. Private dining rooms are available and the Lounge Bar serves a comprehensive selection of drinks. Other facilities include a Cigar Room and Bar Bambi karaoke room. For relaxation, there is single sex onsen bathing, hot stone saunas, spa with massage and hot springs lounge area.
When to visit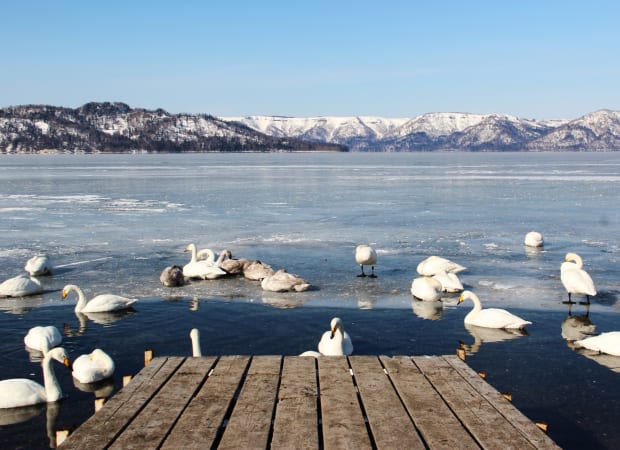 ---
Location
Lake Abashiri, Hokkaido, Japan
The hotel is a 15-minute drive from Abashiri Station and provides a free shuttle bus. Alternatively, Memanbetsu airport, is a 20-minute drive from the hotel.